API

for

people

discovery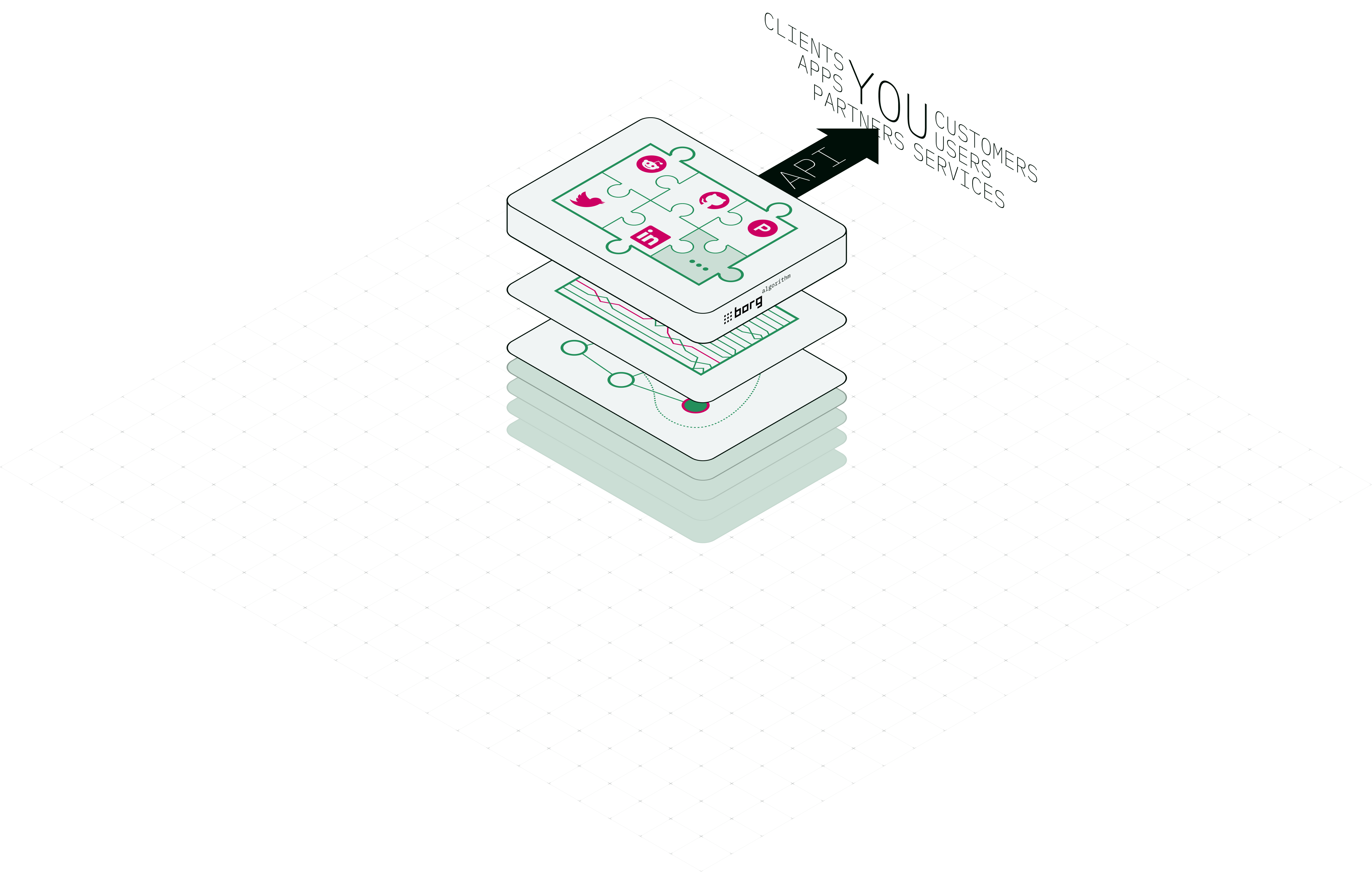 Access, information about influence, interests, and expertise of +100M profiles extracted from public social graphs of Twitter, Linkedin, and Github.
Start Now
Superpower your product
Borg API gives you access to the insights hidden in relationships between hundreds of millions of social profiles.
Community Search
Find people & organizations based on their influence, interests, and expertise
Community Filtering
Filter people & organizations based on their influence, interests, and expertise
Connection Pathfinding
Find the shortest path and strongest connections between two people or teams
Lookalike Detection
Find lookalikes – accounts that look like other accounts
Audience Generation
Generate audiences for advertising and find leads
Impersonator Detection
Identify fake accounts & bots
Onboarding Improvement
Improve onboarding experience for your users
Public Profile Enrichment
Enrich user profiles with public data from other platforms
Secret Sauce
Breakthrough technology
We have developed an algorithm that finds communities in various social graphs and joins them together. This technology enables scoring community membership, influence, interests, and expertise of hundreds of millions of people and, by extension – the organizations they are associated with.
Our algorithm finds a community in a social graph
It works similar to Google's PageRank, but it tracks attention flows instead of links
Each account is ranked by attention it receives
The more attention, the more influential
The community is mapped across multiple platforms
We create a single representation consisting of all these dimensions
Our Metrics
Analyzing accounts based on community association, attention received, topic focus, and field expertise.
Community membership
We estimate the probability that an account belongs to a community.
Influence
We monitor how much attention and from which groups a given account receives. Received attention is the best proxy for influence.
Interests
We monitor which topics and groups a given account pays attention to. Paying attention is the best proxy for interest.
Expertise
We monitor for signals indicating expertise in particular fields, such as GitHub repo contributions.
Give it a try
Sign up for the free tier or book a demo to see how it works.
© Borg Collective 2023. All Rights Reserved